Lo 25th Anniversary Vow Renewal – La Quinta Resort
Simply special!
Maria and John wanted to renew their vows the right way! They did it! Maria and John wanted a party! They got one! They wanted everyone they loved to be there…and they all came!
It was a special night all about life's great gifts: Love, Commitment, Family, Friends, and Celebration of what's important in life! This was Vision Events first '25th Wedding Vow Renewal' and we want to make this a habit.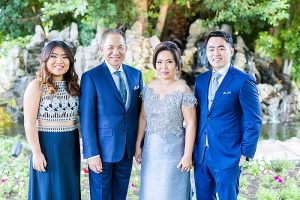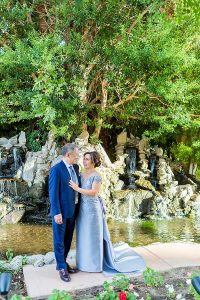 The La Quinta Resort's blending of charm, history and Desert elegance just added to this celebration!  Silver accents, crisp whites, and sharp blues set the stage for this 25th Wedding Vow Celebration! Vision Events had the dream clients on this one. They gave us their verbal wishes and let us go to town! We did! We embraced the surrounding Bougainvillea fuchsia pink of the grounds, and let that speak as we adorned the Cocktail area and the Reception with Silver sparkle, tasteful whites, and then accented it with cobalt blue accents. They let us use our 'team sources' to help them with all aspects of this event, not to mention all of the Paper Elements and Accents for the event from the Save the Dates/Invitation, to the place cards, menu cards & Mass booklet handouts. We even custom made all of the directional signs from the Lobby at the La Quinta Resort to the "La Casa" venue with classic framed signs which we created in partnership with House of Designs.  Thank you Stephanie Cardona of House of Designs!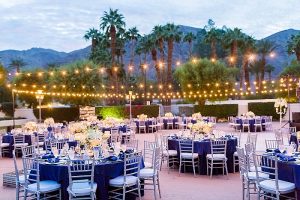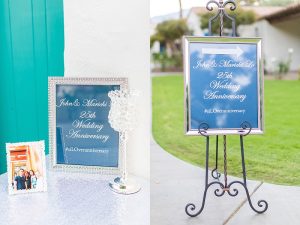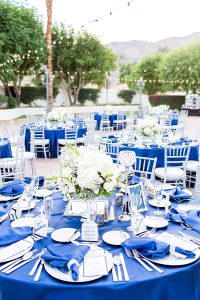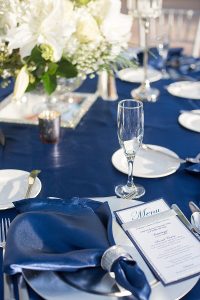 Guests were greeted by our own Vision Events team at the Gift and Sign in Table. We wanted to create a different kind of sign-in piece and with all of their guests coming from all over the world we found a gorgeous metallic blue and silver globe for the guests to sign as a keepsake for the couple to have and cherish in their Library.  This couple's wishes were that the gifts would be donations to their favorite charities which we thought was so amazing and loved watching unfold.  The table was adorned by a crystal candelabra which as the dusk turned to night was filled with beautiful and artful drips of wax that said loud and clear….this was a night to remember!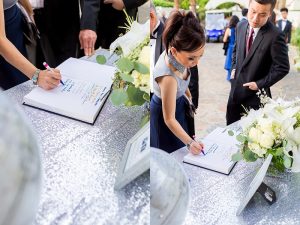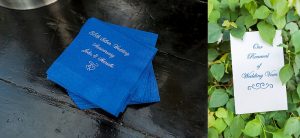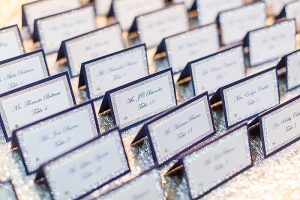 The ceremony on the lawn was a beautiful spot for this intimate and lovely Catholic renewal. Fr. Jack and Maria and John were embraced by a beautiful, custom-made iron arch made by Larry Rogers of Mr. Roger's Auto Body, and then beautified with lovely white and green florals all hand designed and applied by Jordan Hall and his team of designers @ Palm Springs Florist with Vision Events vision in mind. Trusted florists are the only way to go!  Vision Events had three events across the valley on this day and we couldn't be prouder of our teams who made all three events perfect!
Guests arrived and walked past the lit silver candelabra's with orchid sprays to view the rose petal lined center aisle and be seated to take in the historic venue and all of its views, scenery, and classic Palm Springs vintage history.  Vision Events focused on the Ceremony and the details first, in working closely with our clients, the priest, and all of the ceremony needs to make this that much more important and special.  We adorned the Bride and Groom's chairs with handmade blinged and satin blue back wraps for their chairs, and made sure that even the 'Mother Mary' wall font was lit with candles.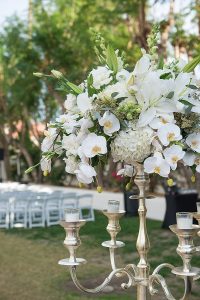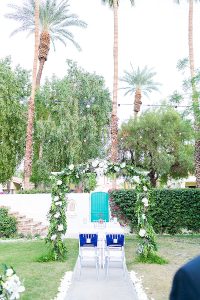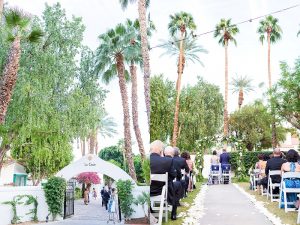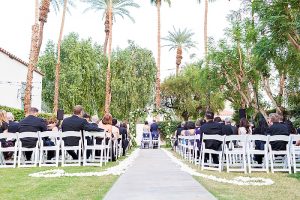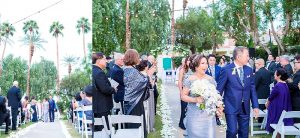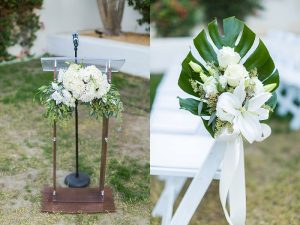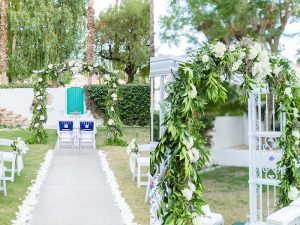 Now, onto the Cocktail Party, this was held in the historic 'courtyard', lit with market lights. The escort table was lit with beautiful crystal drop lamps, and adorned with loving pictures of our couple, their family, and special moments in their 25 years of marriage.  Silver sequined tablecloths adorned each table with contemporary classic white florals, cut crystal votives, and more. Then we added a vintage silver settee and lounge chair vignette area with accented pillows to coordinate with our theme.  This cocktail party was a happening event in itself, and when it was time to move to the reception all were pleased to know that the cocktail party was clearly the beginning of a wonderful evening of laughter, dancing, and tons of fun!

The Reception was set with 72" rounds covered in beautiful cobalt blue satin table cloths, blinged and mirrored centerpiece bases, gorgeous florals in mercury silver containers.  Each setting was graced with silver leaf chargers, Swarovski silver napkins rings to wrap the blue satin napkins and each guest was given a beautifully hand-made cookie from the talented Lisa Provenza-Bebar of Fine Art Cookies, that read "Thank you for sharing this moment with us".  Each table had a pair of tall, crystal and silver candle holders and the table numbers were hand-made and designed by our team and framed in beautiful pearl and crystal frames. The cake by Exquisite Desserts was just a show stopper, and we adorned the table with a custom-made, Swarovski crystal 'Love' sign as well as we had a custom-made' 25' Swarovski Cake Topper made for them to keep as a keepsake. The live band set the stage for what was to come……fun!  There was a lot of 'clinking going on' for sure! Candelabra's and white orchid sprays bookmarked the stage and set the stage for the entertainment. This couple had something to gift to their guests as they had secretly practiced a dance routine and then asked their children and talented friends to entertain as well.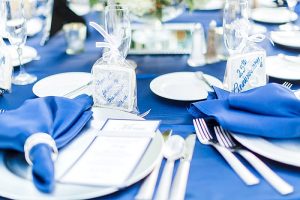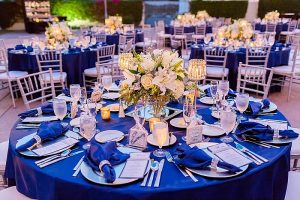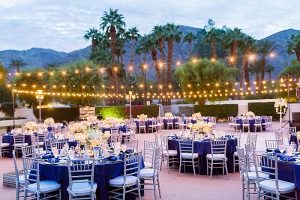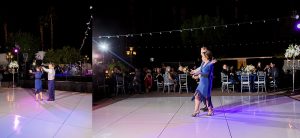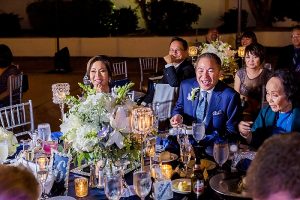 This was an event to remember!
Vendors:
Wedding Coordinator: Vision Events
Rentals: Vision Events
Florist: Palm Springs Florist
Cake: Exquisite Desserts
Photographer: Monocle Project
Arch: Mr. Roger's Auto Body
Videographer: Ram Nogra
Favor Cookie: Fine Art Cookies
Invitation Suite/Menus/Signage: House of Designs
Chairs/Tables/Sofa: Archive Rentals
Venue: La Casa at La Quinta Resort
Band: NRG Music & Productions
Lighting: Signature Rentals