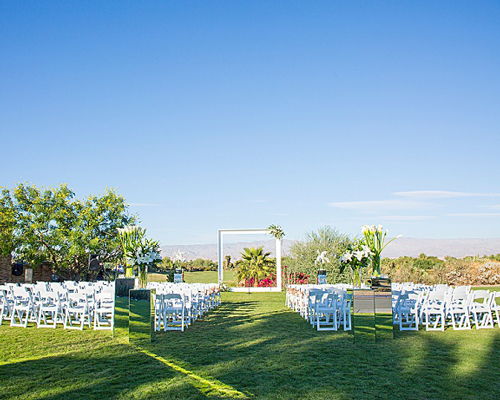 Sara + Andrew – Desert Willow Country Club Wedding
White, Black & Gold with a Touch of Red
Contemporary, Clean, Crisp, Young & Fresh…
These are all of the adjectives the Bride used when describing 'her vision' for her wedding day at Desert Willow Country Club in the greater Palm Springs area!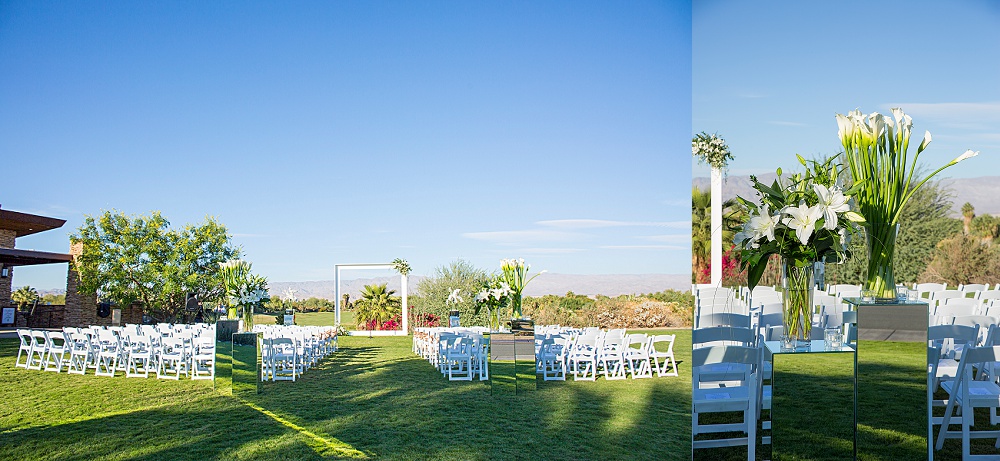 The Ceremony space was a beautiful scenic backdrop that begged to be framed! Vision Events framed nature's art with a custom-built, architectural white wedding framework. We adorned it with lacy greens, petite white roses, white Casa Blanca Lilies and white orchids at top right and lower left corners. The mirrored columns we built were magical as they captured the scenery all around. The Vision Events mirrored columns were lit with votives for ambience and placed at either side of the Wedding Arch and at the entrance into the Ceremony. Each column had a gorgeous floral arrangement of white Orchids, White Casa Blanca Lilies and large scaled Calla's. We can't say enough about our floral source, Palm Springs Florist…they just rise to every occasion and give us the style and design we ask for! Gold satin ribbon adorned the 'family reserved' aisles with each seat receiving a printed 'thank you' and ceremony itinerary for the guests.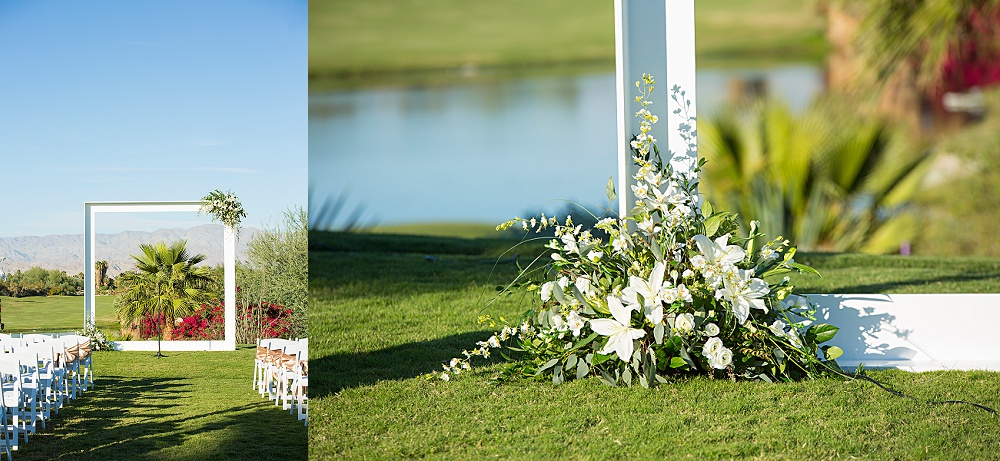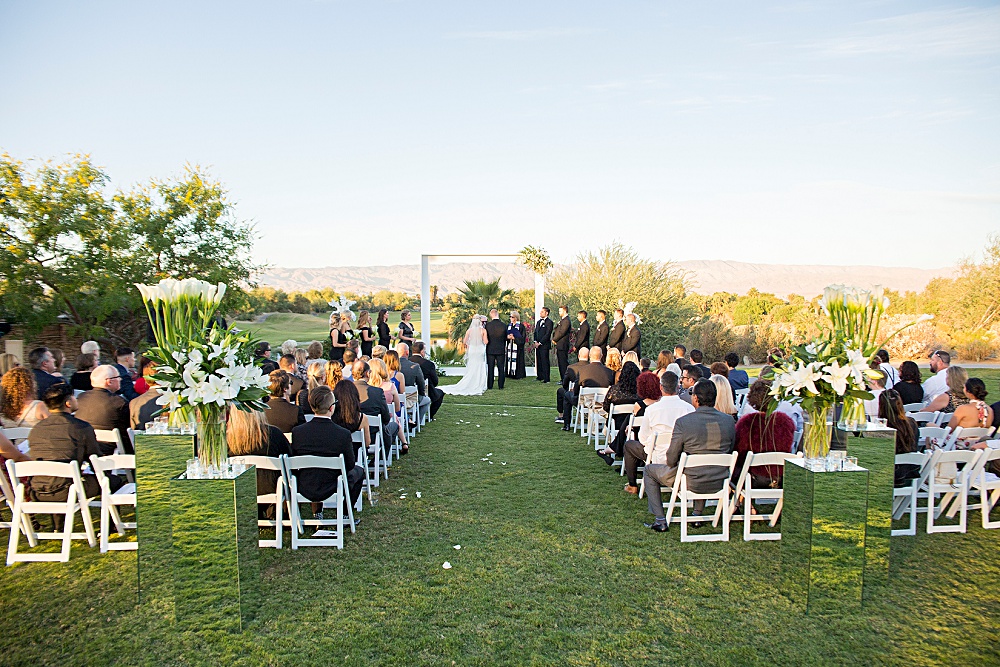 The Entrance to the Reception was where our beautiful 4-tier cake by "Nana D's Cakery" was placed and lit from above; it was adorned with white polka dots on fondant, brushed gold accents, handmade rose petals and all the details our beautiful Bride asked for. Top the cake off with the fun lucite, under-lit cake topper and voila! Again, in design euphoria we then placed our clear lucite sculpture table chart with design by Stephanie Cardona, and printing by Plan-it Print Works, on top of our Vision Events custom-built lit base and what you have here is not only an 'awesome' entrance into the reception for the guests to be guided to their seats, but you have what ended up being a photo op favorite!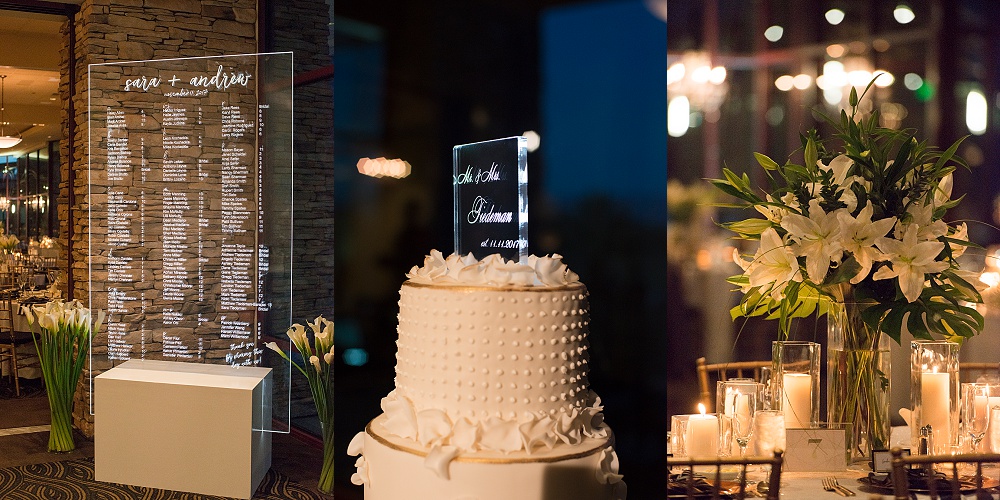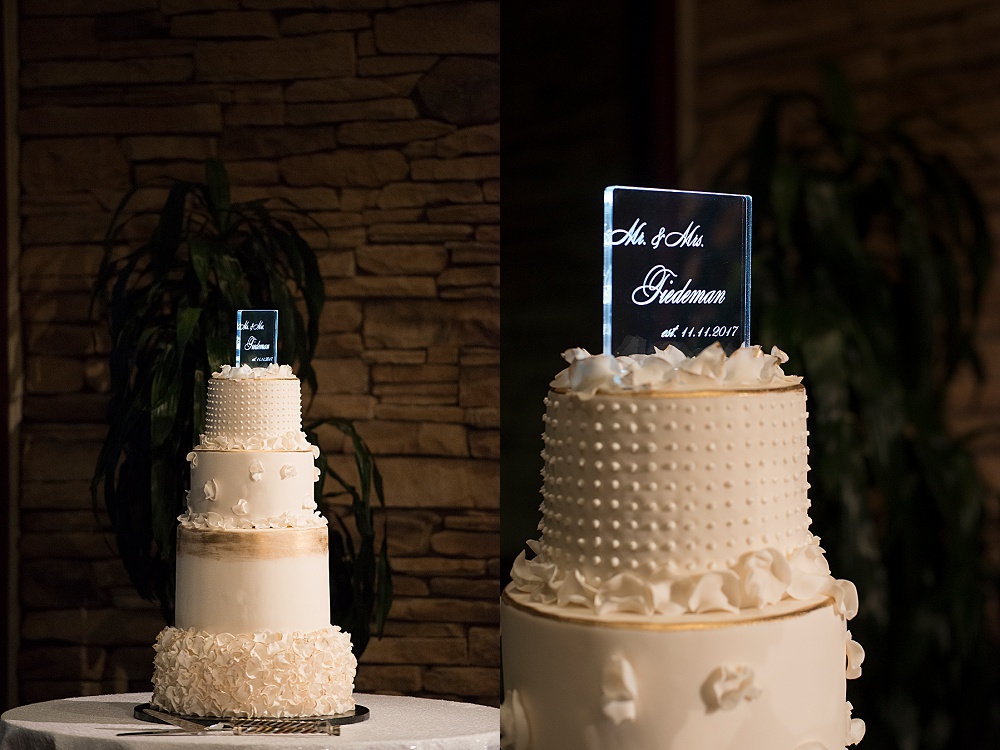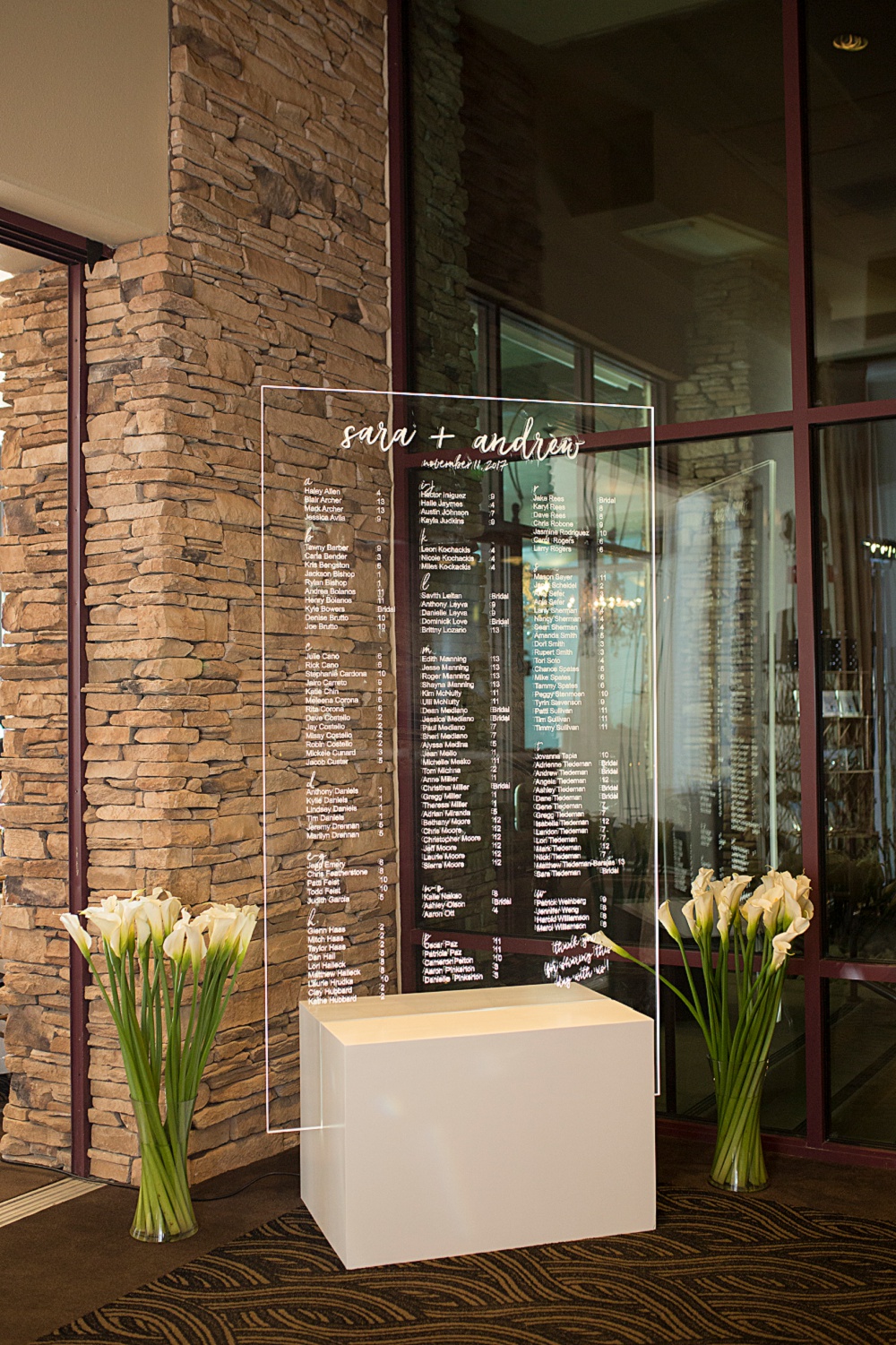 The Guest Reception tables were round and were adorned with white sequin tablecloths to the floor, white and gold contemporary vase show pieces filled with white calla's, orchids and alstroemeria's with gold glass votives. This Bride and Groom wanted style and attention to detail, and Vision Events went all out to give them just that! Each guest table place setting was adorned with a black and white striped folded napkin under each gold charger, black satin napkins and custom gold lucite contemporary heart charms, then we added gold flatware and handmade menu's, and seating cards. We added Chivari gold chairs with black cushions and their 'look' came together!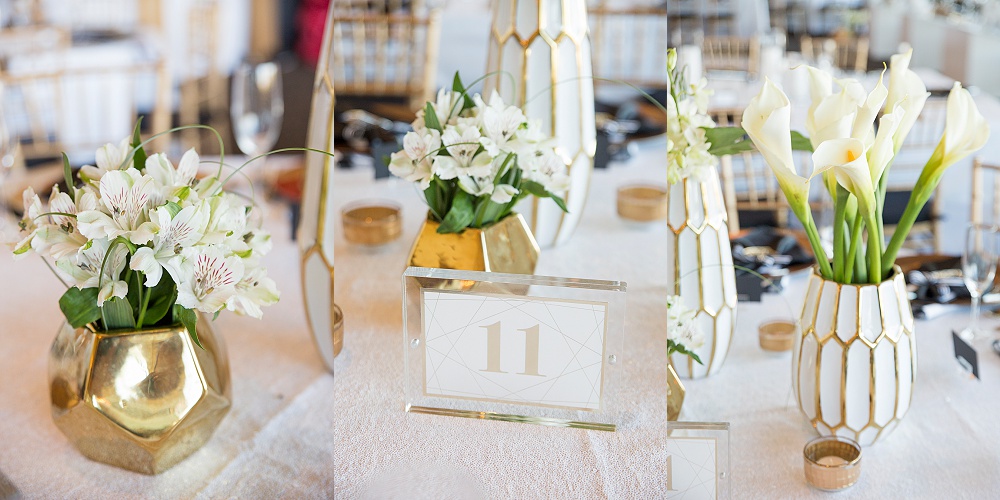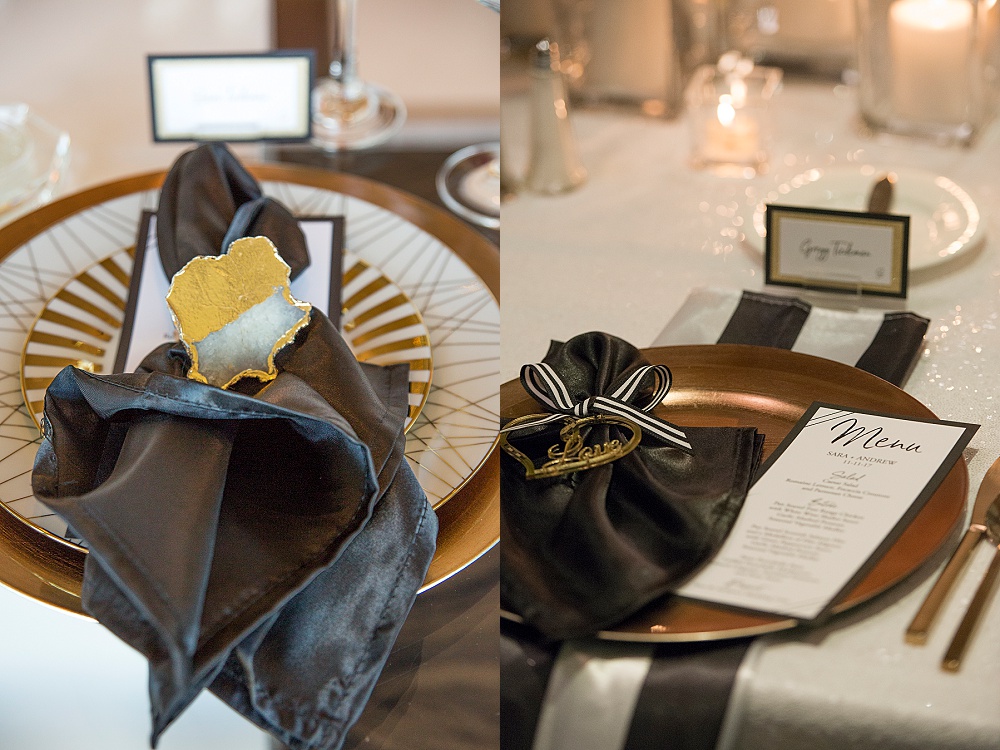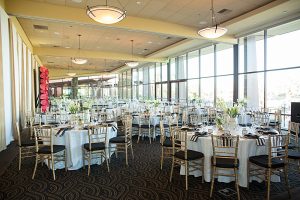 The Bridal Table of 14 was a showstopper! We had fun bringing this to life for sure! We created clear, clean and crisp table tops made of lucite and held up by white rectangular bases. The table was adorned with clusters of square glass containers holding lit candles and Calla lilies draped on the table from the Bridesmaids bouquets. Each place setting for the Bridal table was the gold charger, contemporary-patterned dinner and salad plate, black satin napkins with white agate and brushed gold napkin rings, special wine and water glasses and more. All of the table numbers we framed in lucite, as well as the name cards were held in lucite holders to carry the contemporary theme into all of the details.
The Family Tables stood out as they were Rectangular, adorned with our white sequined cloths to the floor, and using the same theme from the Bridal table we used square glass containers in all different sizes, filled some with Casa Blanca Lilies and the rest with candles of all different sizes. We custom draped the main wall from Entrance to Exit with our custom white panels and gold velvet column drapes to again complete the look.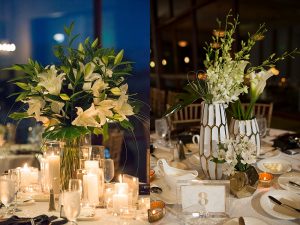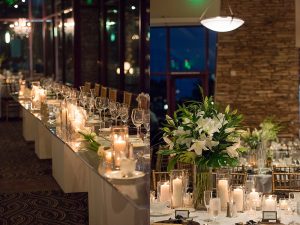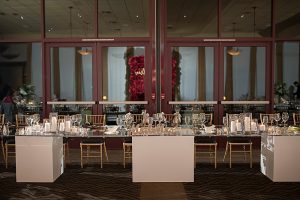 Our bride's bridal bouquet was a stunner, white huge phaleonopsis orchids, split leaf philodendrons, wrapped ti leaves and architecturally placed bear grass! Truly a beautiful floral statement by Palm Springs Florist; we ask, they perform! The bridesmaid's bouquets were simple white calla's wrapped with bear grass to continue our clean and architectural feel in their design.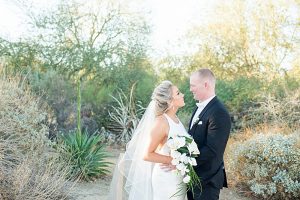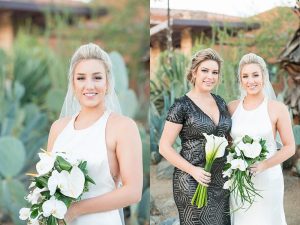 Where's the red accent, you are probably asking….wait for it! The 'Pop of Red Accent' that just sealed the evening with the color of love, red. Our feature wall backdrop was covered in hand-made red paper roses, made by the bride, bridal party and family. It featured the beautiful reason everyone was there; our Bride and Groom's names and the date.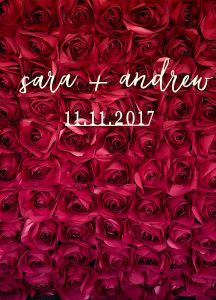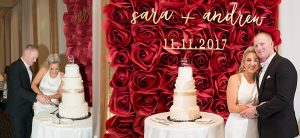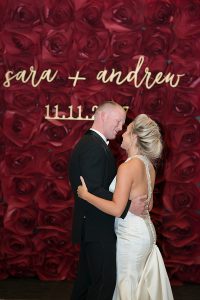 Then, who doesn't want a sparkler exit? We had fun with this!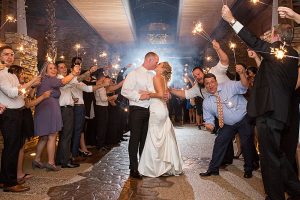 Can we go back? Let's! So much fun, style, and great design in one wedding!
Venue: Desert Willow Golf Resort
Design & Coordination: Vision Events
Rentals/Decor: Vision Events Rental Division
Rentals: Signature Party Rentals
Florist: Palm Springs Florist
Lighting and Structure Construction: Feist Solutions
Photography, Signage, Escort Cards & Menus: Stephanie Cardona Photography & Designs
Cake: Nana D's Cakery
DJ: Sounds by Gabriel Lopez
Hair & Makeup: (Bride did her own)
Bridal Party: Dishwater Blonde Salon