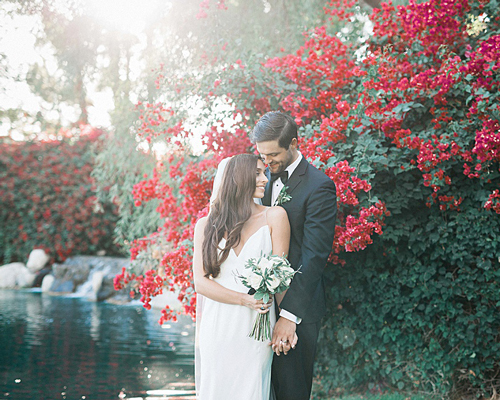 Ellen & Ryan's Hacienda Sumaria Palm Springs Wedding
Palm Springs Wedding – Hacienda Sumaria
This wedding was one that we loved every minute of planning, meeting, designing, building, painting and creating for! We encourage clients to think 'outside the box' and absolutely want to create from their vision something even better so that when they see things come alive, their mouths dropped. These two did not disappoint! From beginning to 'day of', these two were complete joys of inspiration, young love, commitment, friendship and FUN! We hope to be lifelong friends even if it is through their 'life events'…Anniversaries, Baby Showers, Birthday's, and so many more.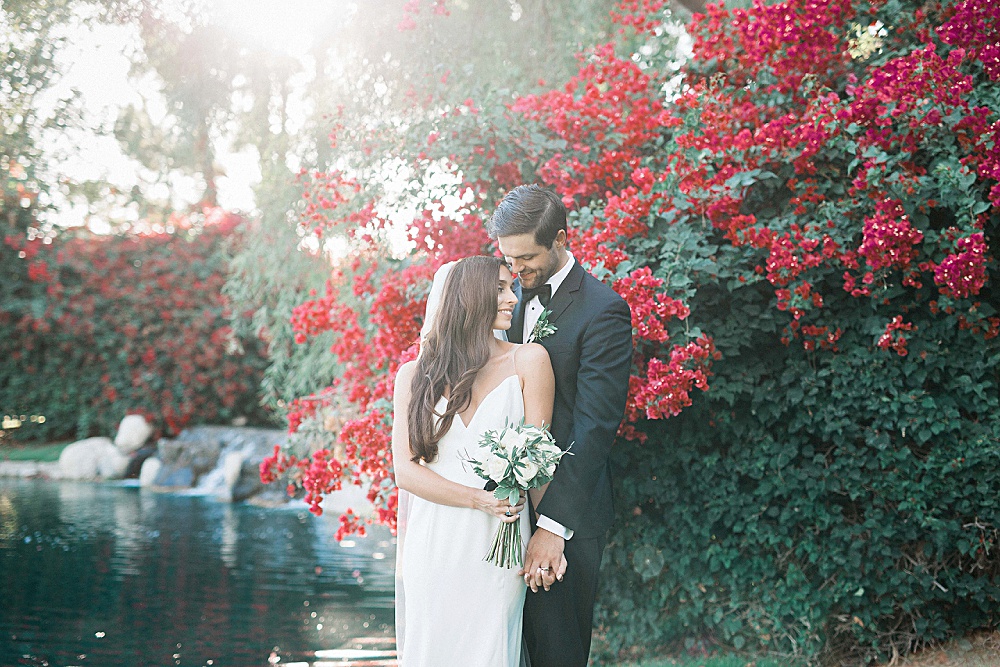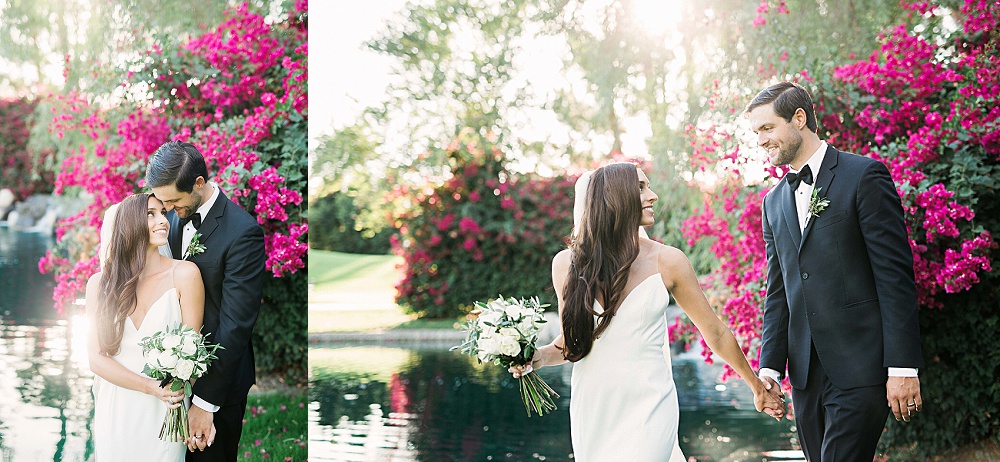 When planning a wedding we are thrust into the clients' hearts, lives, their discussions, thoughts and then asked to take all of that amazing insight and create a day they will cherish forever! As ominous as it sounds, Vision Events looks at these elements, like a gift, and a challenge, and we love to 'make it happen' in a big or small way!
Because weddings these days are experiences, we have learned that the guests need to be guided and led through what will be a progressive event. This wedding was just that! We took them to church! (Sacred Heart Catholic Church), then we led them from there to our venue hideaway that we consider a treasure in the Desert, Hacienda Sumaria! This venue has become home to Vision Events! We know every inch, and we use every inch of the grounds hidden in Rancho Mirage, California. They could stop and gasp at the palm leaf frame with free floating lucite table charts, then laugh at some of the signage, and sandwich boards, as well as the marquis lit 'fun signs' designed by VE, but built by Feist Solutions!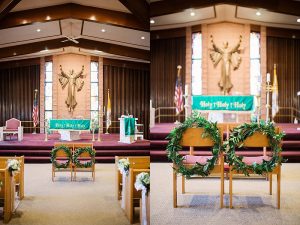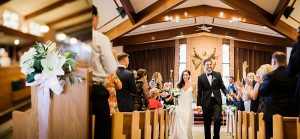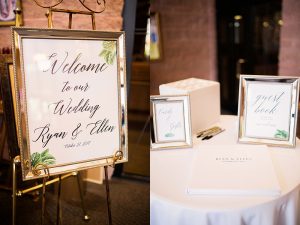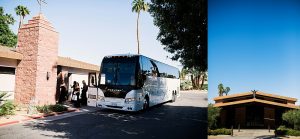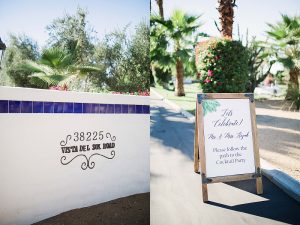 This acrylic seating chart was a dream…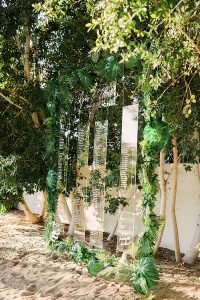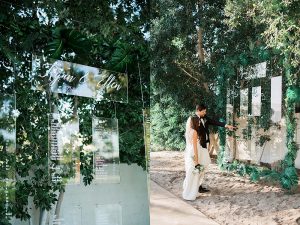 We had the guests shuttled (Lin Lines) from Church to our venue spot. They were then guided along a windy path to their next event, the Cocktail Hour. On their trek they were met with fun signage and amazing design details all reflecting the Bride and Groom and their vibe. The Cocktail were poured, laughter and fun was had by all! The next adventure was then to take them on a guided tour back to the Reception site where the trees were dripping with raindrop lights, the tables were a mixture of Planks and Patina hand-made tables and rounds by Signature Party Rentals and Vision Events Rentals. Vision Events adorned the tables with a mixture of succulents, glass, mirror, and candles galore. The flowers chosen were huge white Casa Blanca's, and orchids, and palm leaves, berries, all brought to life by the amazing Palm Springs Florist! The Bridal bouquets and the bridesmaids bouquets were understated just like the bride wanted, but breathtaking at the same time.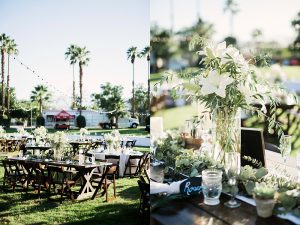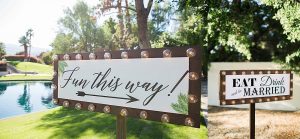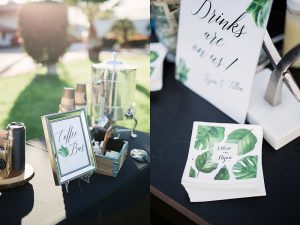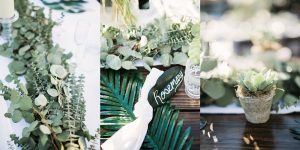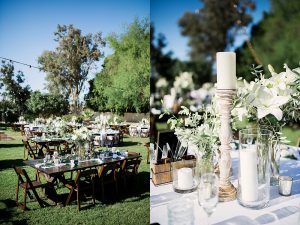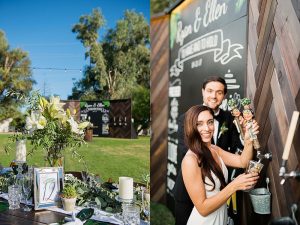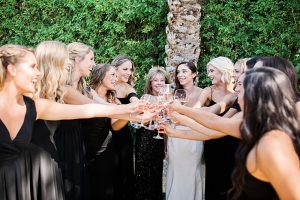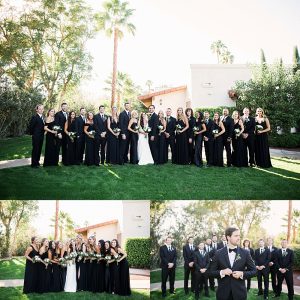 Each place setting was a leaf with the guests name on it in hand-written in calligraphy, resting on a Palm leaf placemat. Well, they are in Palm Springs, California and we wanted them to know that! The overhead glow from the lights strung that day were just the right 'mood setting' for dancing and fun. The stage was set and ready for a FUNK BAND! Catering was the bomb! We had an IN N OUT semi with soda fountain and open menu, then for those that wanted something different we had Giuseppe's from Palm Springs with a full on Pizza Bar and Salad Bar! That's not it…the Bride and Groom wanted this to be a party to remember, so not only did we have a Full Bar, we had a BEER GARDEN customized just for them and we worked with BAR/Giuseppe's catering for all of the liquids!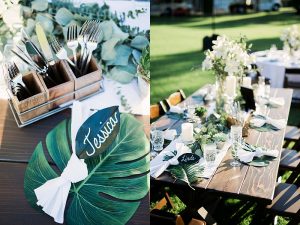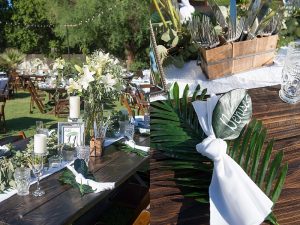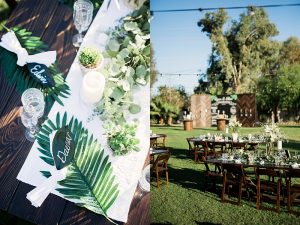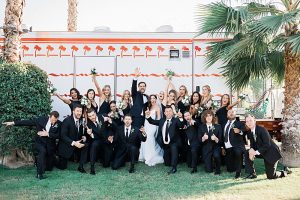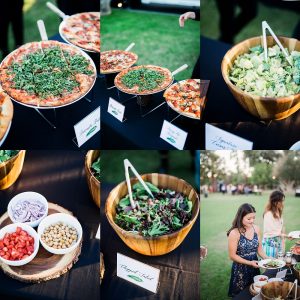 Our team designed, built, and orchestrated one of the most fun experiences for our clients that we have ever done…the Beer Garden & Photo Wall! Thanks so much to Todd @ Feist Solutions for being a Vision Events team player! It was a hit! Vision Events Rentals supplied them with hand-stained huge cable spool display tables, lighting, and an amazing photo backdrop designed the by the VE team and Stephanie Cardona Designs. She works closely with VE on every event and brings in all of the details with graphics, signage, and hand calligraphy! One stop shop and with a source who really loves and cares for what she creates!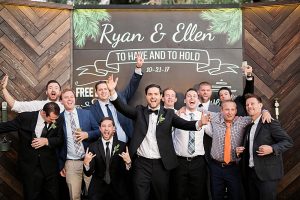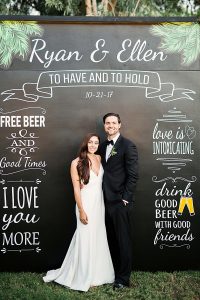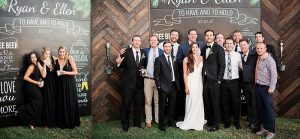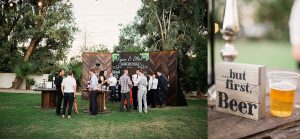 Wait, that's not it…..after the pizza, burgers, and beer garden, last but not least we had a taste Bride and Groom only cake by Exquisite Desserts, and then we had a full on Italian Cookie Table baked especially for us by Frankie's Italian Bakery, and, of course, we had hot and wonderful hand-made Donuts at our Donut Bar by our local favorite, Oh My Donut! Yep, no one left without a smile on their face!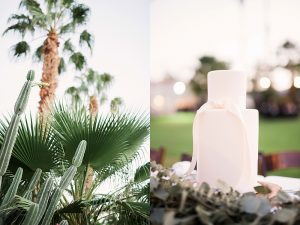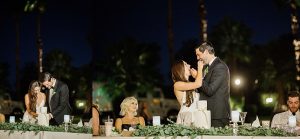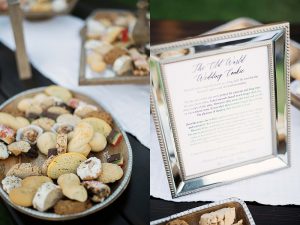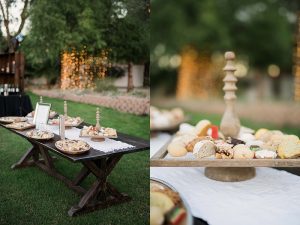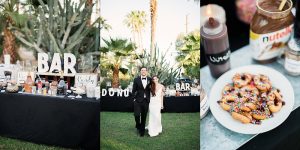 As the night dawned with a beautiful Desert sunset, the rolling greens came alive with our votive scroll designs that the guests could see from the very active dance floor. There's so much more we could say about this wedding, but that maybe will have to be stated on a second blog!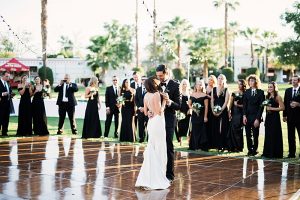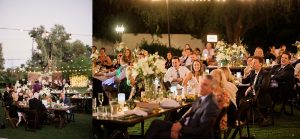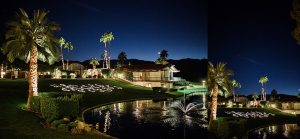 This was our first time working with Gideon Photography, and it will not be our last! We can't say enough about him, he was easy, professional, fun and just look at the product in these pictures! Thank you so much for partnering with us on this adventure. We love what we do, and we hope it shows!
The vendors that made this day possible:
Venue: Hacienda Sumaria
Design & Coordination: Vision Events
Rentals/Decor & Lighting: Vision Events Rental Division
Rentals: Signature Party Rentals and Planks & Patina
Photography: Gideon Photography
Videographer: Marc Lehman, The Emotion Picture Studio
Main Catering: In N Out
Second Caterer & Bar: Giuseppe's
Bride & Groom Cake: Exquisite Desserts
Italian Cookie Desserts: Frankie's Old World Bakery
Donuts: Oh My Donut
Florist: Palm Springs Florist
Live Band: Full Strength Funk Band
Transportation: Lin Lines
Signage/Printing/Graphics: Stephanie Cardona Designs
Photo Backdrop Printing: M2Graphics